Morocco Travel Guide
EDITOR APPROVED
Growing up in the Middle East, I didn't know what to expect of Morocco. Would it be just a version of the Arab world according to expats and tourists? Would it be just another version of the streets of Cairo?
After visiting in December 2017 I can say I absolutely loved it! Morocco is a country that can offer friendly people, deep culture, and varied landscapes, and sights, to see! I believe it still maintains it's authenticity, while also catering to tourists' conveniences.
Getting To + Around Morocco
Morocco is a bit tricky from the US, as there is no direct flight other than Royal Air Maroc, so definitely carve out the time for lengthier travel time and definitely look at booking in advance. We booked last minute and found a great flight that took us straight into Fez [aka] no stopover in Casablanca] via Lisbon with TAP airlines. We then flew out of Marrakech back to NY, stopping over in Belgium overnight, with United.
Traveling within Morocco
Fez to Marrakesh
We avoided transiting in Casablanca, by booking [a same day] flight: Air Arabia Maroc - about $50/person including baggage, 40 minute flight!
A close friend also recommends: Marrakech Express train, about 5-6 hours, $25/$30 ticket for First Class [recommended class!].
There also an option to drive - however not sure what the road situations are like - or going with a glamping trip across cities inbetween, if you have time. I did not experience this so cannot speak to the conditions of the places of lodging, food, etc. I would revert to the internet's world of travel bloggers for an insight into this kind of experience.



Fez to Chefchaoen [The Blue City]
Hired a driver and car [very accessible options in Morocco, and pretty much every Riad and hotel have their reputable recommendations].
3 hour journey each way [carve out one full day for this]

About 2 hours to see all of Chefchaoen
traveling within the towns:
I can speak for Fez and Chefchaoen only.
Taxis, make sure they are on the meter.
Private cabs by the hotel, these can be quite reasonable usually.
Medinas [within the heart of the old town, which you will spend most of your time]: you will be walking mostly.
Fez:
A total maze, recommend getting a guide, at least for a day, but can also walk alone in the day. Avoid walking when the shops are closed and it gets dark, and very dark at night. Most restaurants close around 8 anyways. Its an old and slow town.
Marrakesh:
You can find your way around for the most part, GPS tends to not be 100% in locating you, and therefore could be confusing. Generally okay to go through at night, although barely any reason to after around 8/9pm, unless you are going to and from specific places.

I decided to visit Fez because:
Close to Chefchaoen

A city that could offer me some old-time culture, before visiting the more modern and busy city of Marrakesh

I had to see the tannery

I would've like to see the beach towns of Morocco, and other cities, but I kept the trip shaped around a 5 day stay in Marrakech, and got Fez and Chefchaouen done by staying in Fez. I also figured, the North of Morocco, if ever visited, can be combined with the South of Spain?! Who knows.
How many days do you need?
Three Days - 2 for Fez + 1 for Chefchaoen


Where To Stay
Palais Amani - an old home of an important Fez family, turned into a Riad [we met the owner, and he was super nice and helpful as well]. The courtyard is enjoyable. Breakfast is great, dinner and such is alright.
Things to see/do
Take a guided tour of the medina/city [we always tailor the guide's list to fit our interests]. With a maze of a Medina, a guided tour is great!

Madressa Bou Inania [in the medina].

See engineering genius behind the oldest water clock [in the Medina]

Get a massage at Riad Fez [not a necessity, but in that small town, this can be a well worth activity, and a great hangout spot to just chill and have a meal, with a serene, beautiful courtyard or night time hangout with sheesha and dessert].

Visit Art Naji and see how the tile work and pottery Fez and Morocco is known for is made, from talent that is passed down generation to generation.

See the Tannery [in the medina]
Where to eat
Café Clock, walk in, casual and buzzing place with quirky decor for a afternoon hang or lunch.

Dar Roumana for a nice sit down dinner in a beautiful courtyard, intimate, few tables, make reservations.

Cafe Fez, casual, homey looking, lunch spot.

The Ruined Garden, rustic backyard vibes.
Things to know
Bring Cash, most contemporary places take CC, but as any trip, especially in a foreign, and more rural place, where things close early, have a good amount of cash on you.

Generally safe, but be careful of pickpockets.

Can occasionally find teenagers that are 'too talkative' in the Medina 9pm onwards - you don't want to be walking in a dark maze where everything is closed at this time anyways.

The Medina is a maze

You will be walking uphill, all through the medina [in all three cities discussed here]

Slightly more conservative than Marrakesh.

Almost everyone understands enough English to get by. Arabic and French spoken in most parts, Spanish in the Northern cities.

Negotiate everything 50%-75% when shopping.

If you get a good driver, take his number and see if he is available for the rest of your stay, with an agreed price before hand. Tip well!
A city painted blue! A fun experience, and something to see! A bit of a trek, so planned it within the first three days of our trip [we weren't tired or lazy yet].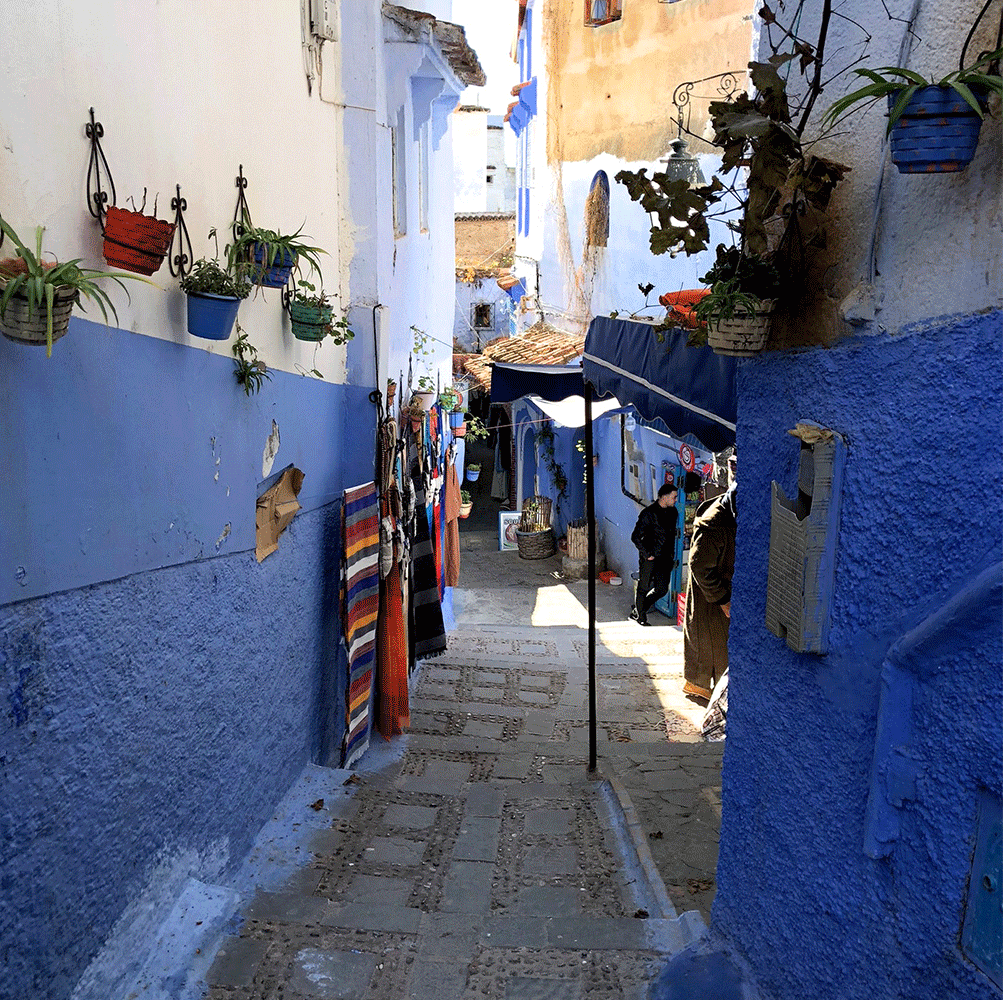 You will hear more Spanish here as this city is further North, therefore more Spanish influence.
Overloaded with tourists, the city's locals are used to running after you for money or buying goods. It's a safe city and you can just go about wandering and enjoying all the blue walls, streets, and alley ways. As all of Morocco and most vacation spots, just be careful of pickpockets. From my understanding, the blue paint started when the Jewish immigrants painted the town blue as a way to alert the other escapees of their location.
This a town to indulge in food, culture [make the effort to find out where the local gems are, and converse with locals] and luxury escapes for any price point. From hammams, courtyards, interiors, visual inspiration, art, craft, landscapes, internationally-influenced cuisine, and hospitality, Marrakesh offers both inspiring surroundings with lots to do but also browse in and relax.

How many days to you need
You can do anywhere from 3 - 6 days. On the lower end, you will see almost everything, and with more days you will relax as well as really be able to see and take everything in, while enjoying the multiple facets of the city.



Where to stay

el fenn, marrakech
I had this place on my list for years. We made it happen, and this Riad was the perfect capture of modern Marrakech with respect to the culture's patterns, style, celebration of color, and hospitality. A great rooftop for sunset time, and breakfast [if you are staying there] and every corner of this place is a beauty. Even the guest house, with a courtyard pool.
ROYAL MANSOUR
This is where royalty stays. After all, it is owned by the King. If you can spend money on this place - even if you eat noodles for the rest of the year - it is totally worth the splurge. With private - yet stones throw away from the Medina - boundaries, a relaxing poolside, garden day restaurant, glass house indoor pool, and a courtyard + spa that has made waves across the world, you will enjoy every second here, and be pampered every minute. There are no rooms, only villas! Yes, your own house. Literally, if you are from a major city, this is more than the apartment you currently live in.
At the least, book a spa treatment here and spend the day browsing the space.
What To Do
YSL Museum / Le Jardin Majorelle
The gardens are beautiful to walk through and bright blue and yellow walls make for the perfect picture backdrop.
The Museum is a great insight to YSL's design practice and amazing designs over the years.
Take advantage and enjoy the beauty of the garden. There's a cafe to refresh if needed.
PRO TIP: GO to the museum and buy tickets to both the museum and garden, so you can skip the line for the garden, which is always so long! [If you're staying at Royal Mansour, they will get you right in to the garden].
the Medina
The medina or market, is one of the main attractions of the city. You will most likely be staying within the Medina or very close to it. It will be a part of your day without effort. I would advice talking a walk around without the intention to actually buy anything first. Definitely feel it out, see the different stores, and ask for prices etc. It is very easy to get excited over everything they have that is super gorgeous and a fraction of the price compared to boutiques anywhere else in the western world. Pace yourself, and without doubt, bargain 70% off of everything. Literally, if you walk away, it works everything without fail.
Things to know: Most places will take card and cash, but carry both on you at all times, take cabs that run on the meter only. A lot of restaurant recommendations will be in the Medina. A lot of rooftop based places are great for a coffee break and view over the Medina. Generally safe, but keep a close eye on your pockets in general. Morocco has often been known for black magic and pickpocketing. Also a city with very friendly locals. So its safe but be cautious and aware of your surroundings.
Museum of Photography
Great for a photography lover with international and local talent.
Moroccan Bath/Hammam
Definitely a must-do while in Morocco. A cleansing bath that will get all the city and travel dirt off of you [and build up of dirt and dead skin cells from everyday life]. A sauna, mixed with a hands-on scrub and shower, with a massage ad-on. [definitely go all out and get the massage]. I would recommend the Royal Mansour Spa and also heard La Sultana Hotel has a great Spa!

Traditional Dinner Experience
There are a few larger restaurants that will serve a large traditional meal with a classical musical experience. This is always fun. Check out Dar Yacout, Al Fassia, and Dar Marjana.
Cooking Class
One of the best ways to get to know a country and culture is through getting to know the local flavors and food. It also serves as a great activity to add on to a city trip. We recommend the one at La Maison Arabe.
Night/Time in the Desert
With Morocco's vast landscapes, you can get beach, mountains and the desert. In Marrakesh you have access to spending a night in the dessert [or more]. You can also request custom packages, that can often avoid staying over night, however if you do, most places will offer a 'glamping' like experience. We recommend getting in touch with Scarabeo Camp and La Pause.
Day in the Atlas Mountains
A day with a tour guide to see the Ourika valley, the falls and a traditional Berber lunch is great! The tour we went to included a walk up the mountains - be careful as these climbs are basically walking up wet rocks! Lots of walking so your fitness will be tested! Wear the right shoes. We were then driven through a local village and served a home cooked meal outdoors, which was definitely a unique experience, I am glad we took the time out to do! Most riads and hotels will be able to set you up with a private car and tour guide.
Jama El Fna
This is the center of the Medina, and the area of it that will open the latest. Some of the alley ways can get dark and confusing, most stores are closed unless you are going to a restaurant in the Medina. Ask your concierge about timings, but usually within a few hours is when Jama El Fna is active for what it's known for: Fresh juice stands, snake charmers, some very talented live music, and you will also see henna application stations and monkey performers. While we did take pictures with the monkeys during our trip, I have since had my eyes opened to the harm a lot of animals go through I order to be 'human' and tourist friendly so I would avoid this in general. Also be aware of how much some of these vendors can rip you off! They will force the animals and henna application on you. Be very confident in ignoring the pushy ones!
A word on La Mammounia and Le Jardin Secret
while this is a great option, it is definitely over hyped. But if you are there it is great. The courtyard area is picturesque, but nothing to go out of your way for! There is also definitely better spa options. Le Jardin Secret is not really worth it. While it serves as a paid entrance sanctuary in the middle of the Medina, you're really not missing anything by skipping it.
Where to eat + hang out at night
Nomad - Great dinner spot in the Medina and also great for sunset, as they have a terrace

Azar - Modern Lebanese restaurant with great food, and sheesha [outside Medina]

Atay Cafe - Cute shabby chic-esuqe lunch cafe [not far from Max + Jan a cute boutique]

La Famille - Ibiza-esque lunch space in the Medina with a vegan friendly menu and small boutique

Naranj - Great day time Lebanese food in the Medina, with a great roof to eat on

The Grand Cafe La Poste - Vintage vibe with French and Moroccan Influences

Terrasse Des Espice - Great terrace options, they provide hats for the moment to protect from the Sun, also open late

Limoni - Italian Restaurant with more traditional decor

Kechmara - Modern cafe type with fusion food, good alternative to the more traditional spots

Royal Mansour's 4 Restaurants - for a fancier experience, RM's 4 restaurants are all overlooked by Michelin Starred Chef Yannick Alléno. The more fine dining options include 10 course gastronomic experiences.

Palais Jad Mahal - Local talent, live performances, fire performers, local singers covering popular songs. Food is edible, but nothing crazy.

Comptoir Darna - Sheesha, coffee, live music [loud]. While it is referred to as a club, I wouldn't go that far. More like a lounge with food options, and a pretty decent crowd. Fun for groups.

Four Seasons - Sheesha available at night
For most places, try to make reservations.

WHERE TO SHOP
El Fenn has a cute boutique

Max and Jan, cute boutique with modernized version of local pieces

Medina has many small boutiques you will see as you walk around

Lanterns, trays, straw bags, carpets, ottomans are all fun pieces you can find and take home

Buy Argan oil from the co-op places to ensure authenticity
Essaouira
Heard this is a town worth the visit. Coastal and beautiful. Didn't make it there, but heard enough good things to recommend others to look into it!